Maytag Appliance Repair Services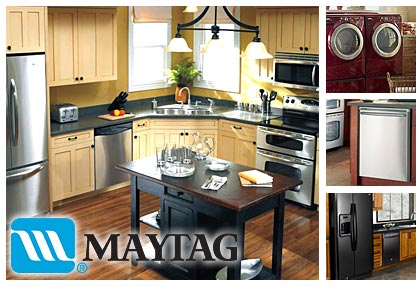 Appliance Master provides Maytag appliance repair services to residents of New Jersey and Eastern Pennsylvania. Our service is provided by the best trained, most professional technicians in the industry. Our support staff prides itself on individualized communication. We personally answer all phone calls and e-mails during normal business hours and Saturdays to get your repairs completed fast.
Maytag Appliances Serviced
Dishwashers, Dryers, Freezers, Ovens, Ranges, Refrigerators, and Washing Machines
Maytag Appliance Repair Service Locations
Our technicians service Maytag appliances in the following locations.
Adelphia, NJ (07710)
Allamuchy, NJ (07820)
Allendale, NJ (07401)
Allenhurst, NJ (07709)
Allenhurst, NJ (07711)
Allentown, NJ (08501)
Allentown, PA (18101)
Allentown, PA (18103)
Allentown, PA (18105)
Allentown, PA (18109)
Allenwood, NJ (08720)
Alpine, NJ (07620)
Andover, NJ (07821)
Annandale, NJ (08801)
Archbald, PA (18403)
Asbury Park, NJ (07712)
Asbury, NJ (08802)
Atlantic Highlands, NJ (07716)
Augusta, NJ (07822)
Avenel, NJ (07001)
Avon By The Sea, NJ (07717)
Bangor, PA (18013)
Baptistown, NJ (08803)
Barnegat Light, NJ (08006)
Barnegat, NJ (08005)
Barryville, NY (12719)
Basking Ridge, NJ (07920)
Bath, PA (18014)
Bayonne, NJ (07002)
Bayville, NJ (08721)
Beach Haven, NJ (08008)
Beach Lake, PA (18405)
Beachwood, NJ (08722)
Bedminster, NJ (07921)
Bedminster, PA (18910)
Belford, NJ (07718)
Belle Mead, NJ (08502)
Belleville, NJ (07109)
Belmar, NJ (07715)
Belmar, NJ (07719)
Belvidere, NJ (07823)
Bensalem, PA (19020)
Bergenfield, NJ (07621)
Berkeley Heights, NJ (07922)
Bernardsville, NJ (07924)
Bethlehem, PA (18015)
Bethlehem, PA (18016)
Bethlehem, PA (18017)
Bethlehem, PA (18018)
Bethlehem, PA (18020)
Bethlehem, PA (18025)
Blairstown, NJ (07825)
Blawenburg, NJ (08504)
Bloomfield, NJ (07003)
Blooming Glen, PA (18911)
Bloomingdale, NJ (07403)
Bloomsbury, NJ (08804)
Boonton, NJ (07005)
Bound Brook, NJ (08805)
Bradley Beach, NJ (07720)
Branchville, NJ (07826)
Brick, NJ (08723)
Brick, NJ (08724)
Bridgewater, NJ (08807)
Brielle, NJ (08730)
Bristol, PA (19007)
Broadway, NJ (08808)
Brookside, NJ (07926)
Browns Mills, NJ (08015)
Buckingham, PA (18912)
Budd Lake, NJ (07828)
Bushkill, PA (18324)
Butler, NJ (07405)
Buttzville, NJ (07829)
Caldwell, NJ (07006)
Caldwell, NJ (07007)
Califon, NJ (07830)
Carbondale, PA (18407)
Carlstadt, NJ (07072)
Carteret, NJ (07008)
Carversville, PA (18913)
Catasauqua, PA (18032)
Cedar Grove, NJ (07009)
Cedar Knolls, NJ (07927)
Center Valley, PA (18034)
Chalfont, PA (18914)
Changewater, NJ (07831)
Chatham, NJ (07928)
Chester, NJ (07930)
Chinchilla, PA (18410)
Clark, NJ (07066)
Clarks Summit, PA (18411)
Clarksburg, NJ (08510)
Cliffside Park, NJ (07010)
Cliffwood, NJ (07721)
Clifton, NJ (07011)
Clifton, NJ (07012)
Clifton, NJ (07013)
Clifton, NJ (07014)
Clifton, NJ (07015)
Clinton, NJ (08809)
Closter, NJ (07624)
Colonia, NJ (07067)
Colts Neck, NJ (07722)
Columbia, NJ (07832)
Coopersburg, PA (18036)
Cranbury, NJ (08512)
Cranbury, NJ (08570)
Cranford, NJ (07016)
Cream Ridge, NJ (08514)
Cresskill, NJ (07626)
Croydon, PA (19021)
Dalton, PA (18414)
Damascus, PA (18415)
Danboro, PA (18916)
Dayton, NJ (08810)
Deal, NJ (07723)
Delaware Water Gap, PA (18327)
Delaware, NJ (07833)
Demarest, NJ (07627)
Denville, NJ (07834)
Dickson City, PA (18519)
Dingmans Ferry, PA (18328)
Dover, NJ (07801)
Dover, NJ (07802)
Doylestown, PA (18901)
Dublin, PA (18917)
Dumont, NJ (07628)
Dunellen, NJ (08812)
Durham, PA (18039)
East Brunswick, NJ (08816)
East Hanover, NJ (07936)
East Orange, NJ (07017)
East Orange, NJ (07018)
East Orange, NJ (07019)
East Rutherford, NJ (07073)
East Stroudsburg, PA (18301)
Easton, PA (18040)
Easton, PA (18042)
Easton, PA (18043)
Easton, PA (18044)
Easton, PA (18045)
Eatontown, NJ (07724)
Eatontown, NJ (07799)
Edison, NJ (08817)
Edison, NJ (08818)
Edison, NJ (08820)
Edison, NJ (08837)
Edison, NJ (08899)
Elizabeth, NJ (07201)
Elizabeth, NJ (07206)
Elmwood Park, NJ (07407)
Emerson, NJ (07630)
Englewood Cliffs, NJ (07632)
Englewood, NJ (07631)
Englishtown, NJ (07726)
Erwinna, PA (18920)
Essex Fells, NJ (07021)
Factoryville, PA (18419)
Fair Haven, NJ (07704)
Fair Lawn, NJ (07410)
Fairfield, NJ (07004)
Fairless Hills, PA (19030)
Fairview, NJ (07022)
Fanwood, NJ (07023)
Far Hills, NJ (07931)
Farmingdale, NJ (07727)
Feasterville Trevose, PA (19053)
Ferndale, PA (18921)
Flagtown, NJ (08821)
Flanders, NJ (07836)
Fleetville, PA (18420)
Flemington, NJ (08822)
Florham Park, NJ (07932)
Fords, NJ (08863)
Forest Grove, PA (18922)
Forked River, NJ (08731)
Fort Lee, NJ (07024)
Fort Monmouth, NJ (07703)
Fort Washington, PA (19048)
Fort Washington, PA (19049)
Fountainville, PA (18923)
Franklin Lakes, NJ (07417)
Franklin Park, NJ (08823)
Franklin, NJ (07416)
Freehold, NJ (07728)
Frenchtown, NJ (08825)
Furlong, PA (18925)
Gardenville, PA (18926)
Garfield, NJ (07026)
Garwood, NJ (07027)
Gillette, NJ (07933)
Gladstone, NJ (07934)
Glasser, NJ (07837)
Glen Gardner, NJ (08826)
Glen Ridge, NJ (07028)
Glen Rock, NJ (07452)
Glenwood, NJ (07418)
Great Meadows, NJ (07838)
Greeley, PA (18425)
Green Village, NJ (07935)
Greendell, NJ (07839)
Greentown, PA (18426)
Hackensack, NJ (07601)
Hackettstown, NJ (07840)
Haledon, NJ (07508)
Hamburg, NJ (07419)
Hampton, NJ (08827)
Harrington Park, NJ (07640)
Hasbrouck Heights, NJ (07604)
Hatboro, PA (19040)
Hawley, PA (18428)
Haworth, NJ (07641)
Hawthorne, NJ (07506)
Hazlet, NJ (07730)
Hellertown, PA (18055)
Helmetta, NJ (08828)
Hewitt, NJ (07421)
High Bridge, NJ (08829)
Highland Lakes, NJ (07422)
Highland Park, NJ (08904)
Highlands, NJ (07732)
Hightstown, NJ (08520)
Hillsborough, NJ (08844)
Hillsdale, NJ (07642)
Hillside, NJ (07205)
Hilltown, PA (18927)
Ho Ho Kus, NJ (07423)
Holicong, PA (18928)
Holmdel, NJ (07733)
Honesdale, PA (18431)
Hopatcong, NJ (07843)
Hope, NJ (07844)
Hopewell, NJ (08525)
Howell, NJ (07731)
Imlaystown, NJ (08526)
Ironia, NJ (07845)
Irvington, NJ (07111)
Iselin, NJ (08830)
Island Heights, NJ (08732)
Jackson, NJ (08527)
Jamison, PA (18929)
Jermyn, PA (18433)
Jersey City, NJ (07304)
Jersey City, NJ (07305)
Jersey City, NJ (07306)
Jersey City, NJ (07307)
Jessup, PA (18434)
Johnsonburg, NJ (07846)
Keansburg, NJ (07734)
Keasbey, NJ (08832)
Kendall Park, NJ (08824)
Kenilworth, NJ (07033)
Kenvil, NJ (07847)
Keyport, NJ (07735)
Kingston, NJ (08528)
Kintnersville, PA (18930)
Kunkletown, PA (18058)
La Plume, PA (18440)
Lafayette, NJ (07848)
Lahaska, PA (18931)
Lake Ariel, PA (18436)
Lake Hiawatha, NJ (07034)
Lake Hopatcong, NJ (07849)
Lake Winola, PA (18625)
Lakehurst, NJ (08733)
Lakeville, PA (18438)
Lakewood, NJ (08701)
Lambertville, NJ (08530)
Landing, NJ (07850)
Langhorne, PA (19047)
Lanoka Harbor, NJ (08734)
Lavallette, NJ (08735)
Layton, NJ (07851)
Lebanon, NJ (08833)
Ledgewood, NJ (07852)
Lehigh Valley, PA (18001)
Lehigh Valley, PA (18002)
Lehigh Valley, PA (18003)
Leonardo, NJ (07737)
Levittown, PA (19054)
Levittown, PA (19055)
Levittown, PA (19056)
Levittown, PA (19057)
Levittown, PA (19058)
Liberty Corner, NJ (07938)
Limeport, PA (18060)
Lincoln Park, NJ (07035)
Lincroft, NJ (07738)
Linden, NJ (07036)
Little Falls, NJ (07424)
Little Ferry, NJ (07643)
Little Silver, NJ (07739)
Little York, NJ (08834)
Livingston, NJ (07039)
Lodi, NJ (07644)
Long Branch, NJ (07740)
Long Valley, NJ (07853)
Lumberville, PA (18933)
Lyndhurst, NJ (07071)
Lyons, NJ (07939)
Madison, NJ (07940)
Mahwah, NJ (07430)
Mahwah, NJ (07495)
Manasquan, NJ (08736)
Manchester Township, NJ (08759)
Mantoloking, NJ (08738)
Manville, NJ (08835)
Maplewood, NJ (07040)
Marlboro, NJ (07746)
Martins Creek, PA (18063)
Martinsville, NJ (08836)
Matamoras, PA (18336)
Matawan, NJ (07747)
Maywood, NJ (07607)
Mc Afee, NJ (07428)
Mechanicsville, PA (18934)
Mendham, NJ (07945)
Metuchen, NJ (08840)
Middlesex, NJ (08846)
Middletown, NJ (07748)
Middleville, NJ (07855)
Midland Park, NJ (07432)
Milanville, PA (18443)
Milford Square, PA (18935)
Milford, NJ (08848)
Milford, PA (18337)
Millburn, NJ (07041)
Millington, NJ (07946)
Millrift, PA (18340)
Milltown, NJ (08850)
Mine Hill, NJ (07803)
Monmouth Beach, NJ (07750)
Monmouth Junction, NJ (08852)
Monroe Township, NJ (08831)
Montague, NJ (07827)
Montclair, NJ (07042)
Montclair, NJ (07043)
Montvale, NJ (07645)
Montville, NJ (07045)
Moonachie, NJ (07074)
Moosic, PA (18507)
Morganville, NJ (07751)
Morris Plains, NJ (07950)
Morristown, NJ (07960)
Morristown, NJ (07961)
Morristown, NJ (07962)
Morristown, NJ (07963)
Morrisville, PA (19067)
Mount Arlington, NJ (07856)
Mount Bethel, PA (18343)
Mount Freedom, NJ (07970)
Mount Tabor, NJ (07878)
Mountain Lakes, NJ (07046)
Mountainside, NJ (07092)
Navesink, NJ (07752)
Nazareth, PA (18064)
Neptune, NJ (07753)
Neptune, NJ (07754)
Neshanic Station, NJ (08853)
Netcong, NJ (07857)
New Brunswick, NJ (08901)
New Brunswick, NJ (08903)
New Brunswick, NJ (08905)
New Brunswick, NJ (08906)
New Brunswick, NJ (08922)
New Brunswick, NJ (08933)
New Brunswick, NJ (08988)
New Brunswick, NJ (08989)
New Hope, PA (18938)
New Milford, NJ (07646)
New Providence, NJ (07974)
New Vernon, NJ (07976)
Newark, NJ (07105)
Newark, NJ (07106)
Newark, NJ (07112)
Newfoundland, NJ (07435)
Newton, NJ (07860)
Newtown, PA (18940)
Normandy Beach, NJ (08739)
North Bergen, NJ (07047)
North Brunswick, NJ (08902)
Northvale, NJ (07647)
Norwood, NJ (07648)
Nutley, NJ (07110)
Oak Ridge, NJ (07438)
Oakhurst, NJ (07755)
Oakland, NJ (07436)
Ocean Gate, NJ (08740)
Ocean Grove, NJ (07756)
Oceanport, NJ (07757)
Ogdensburg, NJ (07439)
Old Bridge, NJ (08857)
Old Forge, PA (18518)
Oldwick, NJ (08858)
Olyphant, PA (18447)
Olyphant, PA (18448)
Oradell, NJ (07649)
Orange, NJ (07050)
Orange, NJ (07051)
Ottsville, PA (18942)
Oxford, NJ (07863)
Palisades Park, NJ (07650)
Paramus, NJ (07652)
Park Ridge, NJ (07656)
Parlin, NJ (08859)
Parsippany, NJ (07054)
Passaic, NJ (07055)
Paupack, PA (18451)
Peapack, NJ (07977)
Peckville, PA (18452)
Pen Argyl, PA (18072)
Pennington, NJ (08534)
Penns Park, PA (18943)
Pequannock, NJ (07440)
Perkasie, PA (18944)
Perrineville, NJ (08535)
Perth Amboy, NJ (08861)
Perth Amboy, NJ (08862)
Philadelphia, PA (19059)
Phillipsburg, NJ (08865)
Picatinny Arsenal, NJ (07806)
Pine Beach, NJ (08741)
Pine Brook, NJ (07058)
Pineville, PA (18946)
Pipersville, PA (18947)
Piscataway, NJ (08854)
Piscataway, NJ (08855)
Pittstown, NJ (08867)
Plainfield, NJ (07060)
Plainfield, NJ (07061)
Plainfield, NJ (07062)
Plainfield, NJ (07063)
Plainsboro, NJ (08536)
Pluckemin, NJ (07978)
Plumsteadville, PA (18949)
Point Pleasant Beach, NJ (08742)
Point Pleasant, PA (18950)
Pompton Plains, NJ (07444)
Port Jervis, NY (12771)
Port Monmouth, NJ (07758)
Port Murray, NJ (07865)
Port Reading, NJ (07064)
Pottersville, NJ (07979)
Princeton Junction, NJ (08550)
Princeton, NJ (08540)
Princeton, NJ (08541)
Princeton, NJ (08542)
Princeton, NJ (08543)
Princeton, NJ (08544)
Quakertown, NJ (08868)
Quakertown, PA (18951)
Rahway, NJ (07065)
Ramsey, NJ (07446)
Randolph, NJ (07869)
Ransom, PA (18653)
Raritan, NJ (08869)
Raritan, NJ (08896)
Readington, NJ (08870)
Red Bank, NJ (07701)
Revere, PA (18953)
Richboro, PA (18954)
Ridgefield Park, NJ (07660)
Ridgefield, NJ (07657)
Ridgewood, NJ (07450)
Riegelsville, PA (18077)
Ringoes, NJ (08551)
River Edge, NJ (07661)
Riverdale, NJ (07457)
Rochelle Park, NJ (07662)
Rockaway, NJ (07866)
Rocky Hill, NJ (08553)
Roebling, NJ (08554)
Roosevelt, NJ (08555)
Roseland, NJ (07068)
Roselle Park, NJ (07204)
Roselle, NJ (07203)
Rosemont, NJ (08556)
Rowland, PA (18457)
Rumson, NJ (07760)
Rushland, PA (18956)
Rutherford, NJ (07070)
Saddle Brook, NJ (07663)
Saddle River, NJ (07458)
Saylorsburg, PA (18353)
Sayreville, NJ (08871)
Sayreville, NJ (08872)
Schooleys Mountain, NJ (07870)
Sciota, PA (18354)
Scotch Plains, NJ (07076)
Scranton, PA (18501)
Scranton, PA (18502)
Scranton, PA (18503)
Scranton, PA (18504)
Scranton, PA (18505)
Scranton, PA (18508)
Scranton, PA (18509)
Scranton, PA (18510)
Scranton, PA (18512)
Scranton, PA (18515)
Scranton, PA (18540)
Scranton, PA (18577)
Sea Girt, NJ (08750)
Seaside Heights, NJ (08751)
Seaside Park, NJ (08752)
Sellersville, PA (18960)
Sergeantsville, NJ (08557)
Sewaren, NJ (07077)
Shohola, PA (18458)
Short Hills, NJ (07078)
Shrewsbury, NJ (07702)
Silverdale, PA (18962)
Skillman, NJ (08558)
Solebury, PA (18963)
Somerset, NJ (08873)
Somerset, NJ (08875)
Somerville, NJ (08876)
South Amboy, NJ (08879)
South Bound Brook, NJ (08880)
South Hackensack, NJ (07606)
South Orange, NJ (07079)
South Plainfield, NJ (07080)
South River, NJ (08877)
South River, NJ (08882)
Southampton, PA (18966)
Sparta, NJ (07871)
Spotswood, NJ (08884)
Spring Lake, NJ (07762)
Springfield, NJ (07081)
Springtown, PA (18081)
Stanhope, NJ (07874)
Stanton, NJ (08885)
Stewartsville, NJ (08886)
Stillwater, NJ (07875)
Stirling, NJ (07980)
Stockertown, PA (18083)
Stockholm, NJ (07460)
Stockton, NJ (08559)
Stroudsburg, PA (18360)
Succasunna, NJ (07876)
Summit, NJ (07901)
Summit, NJ (07902)
Sussex, NJ (07461)
Swartswood, NJ (07877)
Tafton, PA (18464)
Tamiment, PA (18371)
Tannersville, PA (18372)
Tatamy, PA (18085)
Taylor, PA (18517)
Teaneck, NJ (07666)
Tenafly, NJ (07670)
Tennent, NJ (07763)
Teterboro, NJ (07608)
Three Bridges, NJ (08887)
Titusville, NJ (08560)
Toms River, NJ (08753)
Toms River, NJ (08754)
Toms River, NJ (08755)
Toms River, NJ (08756)
Toms River, NJ (08757)
Totowa, NJ (07512)
Towaco, NJ (07082)
Tranquility, NJ (07879)
Trenton, NJ (08601)
Trenton, NJ (08602)
Trenton, NJ (08603)
Trenton, NJ (08604)
Trenton, NJ (08605)
Trenton, NJ (08606)
Trenton, NJ (08607)
Trenton, NJ (08608)
Trenton, NJ (08609)
Trenton, NJ (08610)
Trenton, NJ (08611)
Trenton, NJ (08618)
Trenton, NJ (08619)
Trenton, NJ (08620)
Trenton, NJ (08625)
Trenton, NJ (08628)
Trenton, NJ (08629)
Trenton, NJ (08638)
Trenton, NJ (08640)
Trenton, NJ (08641)
Trenton, NJ (08645)
Trenton, NJ (08646)
Trenton, NJ (08647)
Trenton, NJ (08648)
Trenton, NJ (08650)
Trenton, NJ (08666)
Trenton, NJ (08677)
Trenton, NJ (08690)
Trenton, NJ (08691)
Trenton, NJ (08695)
Trumbauersville, PA (18970)
Union, NJ (07083)
Unity House, PA (18373)
Upper Black Eddy, PA (18972)
Vauxhall, NJ (07088)
Vernon, NJ (07462)
Verona, NJ (07044)
Vienna, NJ (07880)
Waldwick, NJ (07463)
Wallington, NJ (07057)
Wallpack Center, NJ (07881)
Wanaque, NJ (07465)
Waretown, NJ (08758)
Warminster, PA (18974)
Warminster, PA (18991)
Warren, NJ (07059)
Warrington, PA (18976)
Washington Crossing, PA (18977)
Washington, NJ (07882)
Watchung, NJ (07069)
Waverly, PA (18471)
Waymart, PA (18472)
Wayne, NJ (07470)
West Long Branch, NJ (07764)
West Milford, NJ (07480)
West New York, NJ (07093)
West Orange, NJ (07052)
Westfield, NJ (07090)
Westfield, NJ (07091)
Westwood, NJ (07675)
Wharton, NJ (07885)
Whippany, NJ (07981)
Whippany, NJ (07983)
Whippany, NJ (07999)
Whitehouse Station, NJ (08889)
Whitehouse, NJ (08888)
Wickatunk, NJ (07765)
Wind Gap, PA (18091)
Windsor, NJ (08561)
Wood Ridge, NJ (07075)
Woodbridge, NJ (07095)
Woodcliff Lake, NJ (07677)
Wrightstown, NJ (08562)
Wyckoff, NJ (07481)
Wycombe, PA (18980)
Zarephath, NJ (08890)
Zionhill, PA (18981)