Look for another fun and easy recipe at the end of this newsletter!
In Part 2 we share tips for using both types of ranges for best results.

Let's start with ranges that have electric cooktops. An electric cooktop can have coiled burners or a smooth surface.
1. Burners
Use the right size burner for your pot to ensure even cooking.
2. Knobs
Knobs can be removed and washed either in your dishwasher or with warm soapy water. If they're especially dirty or greasy, you may want to soak them in warm soapy water for a few hours.
3. Cooktops
Keep cooktops clean and avoid excess liquid, whether it's a spill or too much cleaning solution.
4. Spills
Avoid oven spills by setting a rimmed pan underneath pies, quiches, and any other food that can rise up and spill over.
5 Oven Racks
Leaving the oven racks in while self-cleaning may cause them to discolor. It's best to remove them and clean them separately. The racks can be cleaned with an abrasive pad or chemical oven cleaner.
---
Tech Tip:
Senior Tech John G. recommends GP66 as an all-purpose cleaner!
---

1. Electric Cooktops
Drip pans under electric cooktop burner coils can be removed and cleaned either by hand or in the dishwasher. We don't recommend covering them with foil because the foil can contact the burner coil.
2. Electric Ovens
In an electric oven, the element is at the top of the cavity. Use the middle rack for best results. Use the top rack when you want to broil. The bottom of the oven will be cooler and take more time to bake.
3. Gas Ovens
In a gas oven, there are vents which allow the heated air to flow into the oven cavity. This can cause uneven temperatures throughout the oven. If your gas oven cooks unevenly, try putting a pizza stone on the bottom rack. It will hold heat and keep the temperature from fluctuating as much. Use the middle rack for best results.
4. Self-Cleaning Ovens
Self-cleaning ovens use extremely high heat (800-900 degrees) to turn debris and residue into a white ash that can easily be wiped up after the cycle is complete. Before you start the cycle, take the racks out and never try to force the door open until the cycle is finished.
Which type of range is best? You decide.
Many professional-grade ranges are dual fuel. They use gas for the cooktop because of the instantaneous temperature control. They use electric in the oven for even heating.
Gas ranges are typically more expensive, but cost less to operate.
Electric ranges may be the only option in areas where gas isn't readily available.
Smooth cooktops are easiest to clean, but their surfaces are more delicate and you may need new cookware with heavy flat bottoms.

Here is a fun and easy recipe for "Pigs In A Blanket".
A perfect picnic finger food.
1. Buy cocktail franks and a tube of crescent rolls.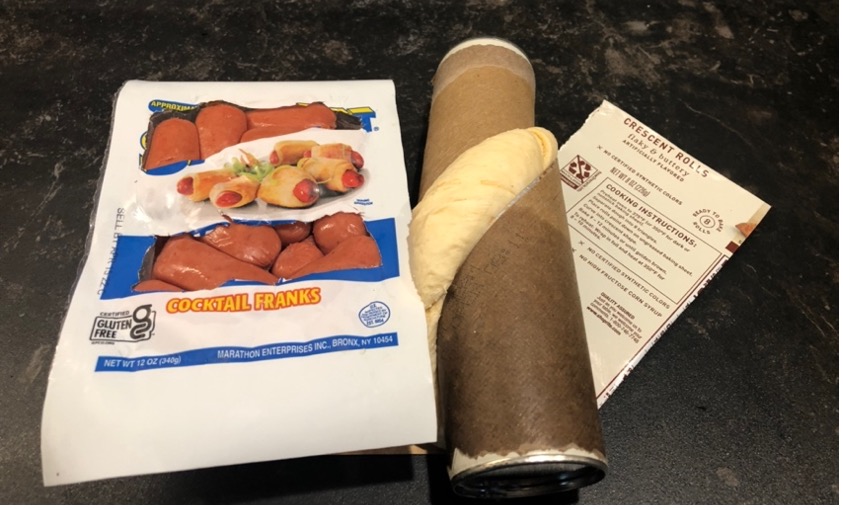 2. Open the crescent rolls and cut each one into four pieces as shown below.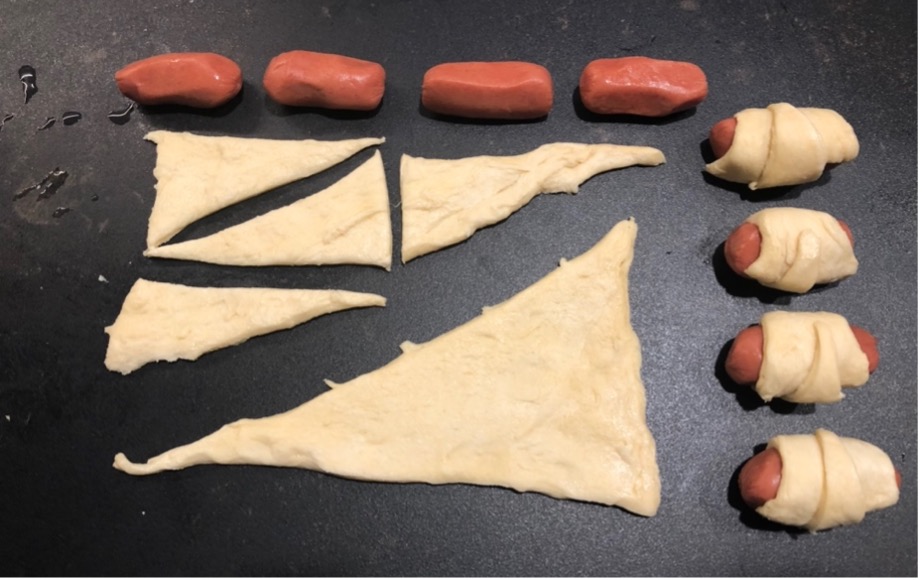 3. Roll the pieces around the franks and put on a baking sheet with the point of the crescent up.
4. Bake according to the crescent roll directions. Check after 15 minutes to see if they're golden brown, otherwise bake a little longer. Best served right away with ketchup or mustard. They can also be reheated for 5- 10 minutes in a 350 degree oven.